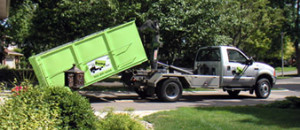 No large-scale cleanup or cleanout project is complete without proper trash removal. Unfortunately, trash removal is also one of the most difficult challenges you'll face during your project. Between bagging up all of the garbage and lugging it out of the building, it's virtually impossible for you to remove the entirety of your trash from your property on your own. Instead of making dozens of trips back and forth to the landfill, contact Bin There Dump That to discuss an affordable dumpster rental. We work with both property owners and cleanout professionals to help get homes and commercial spaces clean and clutter-free. We offer some of the lowest prices for garbage removal and appliance disposal in the Kansas City area, and we're ready to join your cleanup team.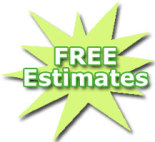 At Bin There Dump That, our team wants to be your solution for garbage and rubbish removal. Our dumpsters are ideal for myriad projects, so whether you're prepping for an upcoming move, dealing with a foreclosure, resolving a hoarding situation, or conducting an estate cleanout, we've got a dumpster that will meet your trash removal needs. We have 4-yard, 10-yard, 14-yard, and 20-yard dumpsters available that you can rent for up to 7-10 days. Contact us with details about your ideal garbage removal scenario, including the size of your project, and we'll give you advice on which dumpster will be the best fit. We'll also provide you with a free cost estimate!
At Bin There Dump That, our dumpsters can handle:
Construction debris
Concrete
Yard waste
Appliances
Furniture
Garbage
Bagged rubbish
And more!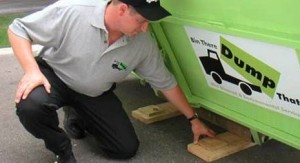 After you've loaded all of your trash into our dumpster, our team will arrive to pick it up. As a team of expert trash haulers, we'll ensure that your discarded items and rubbish are disposed of properly, according to all local regulations and laws. When you hire the fully licensed, bonded, and insured furniture disposal and appliance disposal specialists at Bin There Dump That, you can trust that you won't have to face the expensive consequences of incorrect or unlawful garbage disposal. So don't settle for a shady, fly-by-night trash removal service—go with the pros at Bin There Dump That instead!
Foreclosure Cleanouts
Foreclosed homes are often left in a disheveled, disorderly state. Before a foreclosed home can be returned to the market, it must be cleaned out from top to bottom. If you're a bank representative or real estate agent in charge of leading a foreclosure cleanup in the Kansas City area, then you need a junk remover like Bin There Dump That to remove the trash. You've got enough on your plate with the actual cleaning and renovating process. Leave the final trash haul or furniture disposal to us. Our trash haulers are on your side with sturdy, affordable dumpster rentals, allowing you to focus on the cleaning. Call or e-mail us now to learn how our dumpster rentals can speed up your next cleanout!