Some people are extremely organized and motivated, discarding unwanted items immediately and keeping a house with unmatched tidiness. However, many of us get caught up in day-to-day activities and wind up letting those unwanted items pile up in closets, guest rooms, and storage units for months or years instead. If you've found yourself buried in accumulated clutter and want to get rid of the junk, Bin There Dump That is here to help. Renting one of our dumpsters will allow you to get those items out of your building—and out of your life for good. Contact us now to learn more!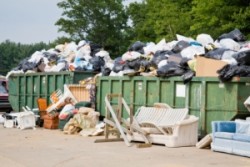 Large-scale junk removal is essential for a number of different projects, including: 
Appliance and furniture disposal
Renovations
Foreclosures
Moving cleanouts
Estate cleanouts
Neighborhood cleanups
Office moves
Whether you just renovated your kitchen, you're cleaning out a former tenant's unit, or you're refurnishing your office from scratch, at Bin There Dump That we understand that you don't have time to make dozens of trips back and forth to the landfill or recycling center. Likewise, letting all of the refuse pile up in your backyard and cleaning it up later simply isn't an option. Instead, let our dumpsters do the junk hauling for you. We can provide you with 4-yard, 10-yard, 14-yard, and 20-yard dumpsters, and we offer dumpster rentals for up to 7-10 days, so you don't have to rush through a thorough—and possibly frustrating and emotional—cleanout process. Simply load up our dumpster rental at your leisure and let us know when we can come pick it up! Contact us for a free estimate based on the duration and the scope of your junk removal project.
When you call Bin There Dump That, you'll enjoy some of the most pleasant customer service in Kansas City. On top of that, we're proud to offer some of the lowest prices for junk removal services in town, and we'll work with you to make certain that all of your needs are met as efficiently as possible. While we are unable to load heavy furniture, appliances, construction debris, and other discarded items into the dumpster for you, we've got the actual junk haul itself covered. Once your items are loaded onto the dumpster, our team will do the rest! We'll arrive at the end of your rental period to pick up the dumpster, at which point you can finally wave goodbye to your unwanted items and enjoy your clutter-free space, basking in the knowledge that one of the most grueling parts of the job—hauling/junk removal—is done.
Bin There Dump That happily provides home- and business owners in and around Kansas City with high-quality, professional junk hauling service. We're fully licensed, bonded, and insured and have the junk haul expertise to help you complete just about any renovation or cleanout. Don't wait to start your much-needed junk clear out project—call or e-mail the junk hauling professionals at Bin There Dump That today.
At this time, our dumpsters cannot take Haz-Mat, flammables, tires, batteries, or asbestos. We accept concrete and shingles, but they must be in a separate load.