Are you planning a massive spring cleaning project? Restoring a water-damaged property? Emptying a storage unit? You'll need somewhere to put all of the junk, trash, or debris once it's out of your space. That's where the professionals at Bin There Dump That come in. We're Kansas City's answer to your dumpster rental needs, and we're ready to make your renovation or junk removal project a whole lot easier. Call us today!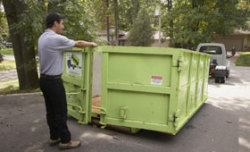 When you contact Bin There Dump That, you can be confident that you'll get personalized, professional service. While other dumpster service companies might not consider preserving the condition of your driveway or parking lot, our team goes the extra mile by placing protective wooden boards underneath all of our dumpster rentals. That's how committed we are to providing you with the best quality possible. You can also count on us for 
At Bin There Dump That, we offer a variety of dumpster rental sizes ideal for properties and projects of all sizes, including:
4-yard
10-yard
14-yard
20-yard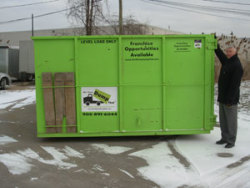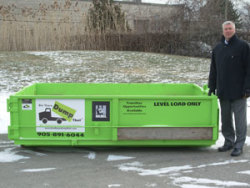 It's not always easy to determine what size dumpster you'll need for your upcoming project. Fortunately, the pros at Bin There Dump that are deeply knowledgeable, and we'll assess the specifics of your project in order to suggest the most appropriate dimensions. Our dumpster rentals are generally available for seven to ten days, but our scheduling remains flexible. So whether you want to finish a big demolition project quickly or need more time to sort out any salvageable materials, we're there for you. Above all, we're proud to offer some of the best pricing in Kansas City. We'll even throw in a free estimate to show you how serious we are about helping you get the job done at a price that fits your budget.
When you've finished your cleanout, junk removal, or renovation/demolition project, we'll return to pick up the full dumpster. Bin There Dump That offers some of the most prompt and efficient dumpster rental services in the area, and our team will never keep you waiting. Moreover, all of our dumpsters are green and in great shape, so you won't be stuck with an eyesore in your driveway for an entire week. Plus, they're on wheels, which allows us to simply roll away the evidence, leaving your property trash- and clutter-free. Then, you can trust that we'll dispose of the items properly, following all local codes and laws.
At Bin There Dump That, we're fully licensed, bonded, and insured for your protection and peace of mind. We even offer emergency dumpster rental services, and our experienced staff is eager to help you. Call or e-mail us today to learn what our dumpster service can do for you!
Bin There Dump That is unable to take Haz-Mat, flammables, tires, batteries, or asbestos in our dumpster rentals at this time. We will take concrete and shingles but only if they are sorted into a separate load. Pricing will vary.